Service Update
From Monday 1st May, we have had to temporarily change the location of one of the Kirklees Well-Bean Cafes. Due to reasons outside of our control, the current Dewsbury building is no longer available.
For this reason, the Well-Bean Café will be operating 7 nights a week from our Huddersfield site, which is at Union Bank, Union Bank Yd, New St, Huddersfield, HD1 2BP.
Individuals can refer to the café by calling 0774 1900 395 from 6pm, 7 days a week.
The café is open to visitors who are:
Aged 18 years and over

Experiencing crisis

Requiring emotional support
The café can provide a social space and offers 1:1 support in person or remotely over the phone. We may be able to support individuals with travel to and from the café, which can be discussed at the time of referral. Get in touch for more information and support.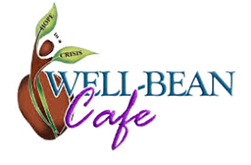 The Well-bean Crisis Café provides a safe space for Kirklees residents who are experiencing crisis and aims to prevent avoidable attendances at A&E.
The cafe offers a warm person-centred approach to crisis support and is available every night from 6pm-midnight.
One-to-one support, a safe social space, hot drinks, and homemade food are available.
Anyone wishing to attend the cafes can refer themselves or ask a professional health or social care worker to refer them.
Referrals are taken over the phone every night from 6pm-midnight.
Professional referrals can also be submitted during office hours on the day the support is needed, using the professional referral form, which can be downloaded here. This form can also be requested via email – wellbeancafekirklees@touchstonesupport.org.uk
For telephone referrals please ring:
07741 900395
Please note:  Unfortunately, we cannot accept referrals from people under 18 or from those who may be struggling with the following:
Acute intoxication
Acute psychosis (only where this poses a risk to others)
Alcohol withdrawal
Injury which requires treatment
Overdose/treatment or observations required.
Personal care
The Well- bean cafe was set up by Touchstone and is funded by NHS Greater Huddersfield Clinical Commissioning Group and NHS North Kirklees Clinical Commissioning Group.