Welcome to Leeds Community Pain Peers!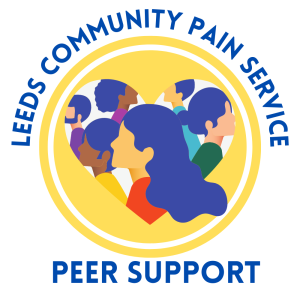 Peer Support is delivered through the charity Touchstone and we work in partnership with the NHS Leeds Community Pain Service. We are a group of people who experience chronic pain, who meet up regularly online and face-to-face.
What is Peer Support?
Peer Support is where people use their own experiences to help each other to find ways of managing their pain. Peer support aims to bring people with shared experiences together to support one another other and provide a space where we can all feel accepted, supported and understood.
Every person who attends has experience of chronic pain, we all 'get it', we all understand what it is like to live in pain and all the things that come with that.
Our aim is to create a safe space to come and have a chat with people who understand, and we have found it really does make a huge difference to our overall health and wellbeing.
We offer a range of peer support groups, including online and face-to-face and hope to continue to grow the service. Don't worry if you are not tech savvy, we can also help you with this.
Here at the Leeds Community Pain Service, our Peer Support team is made up of Katie, the Peer Support & Volunteer Development Worker and a team of lovely Volunteer Peer Supporters.
What support is on offer?
Our online group meets every Monday 2-3pm, via Zoom.
Group members have decided that every other week will be a 'coffee/chat' online get together as a distraction from pain, with a more structured/pain management focused group in between. Topics have included, coping in the winter months, holistic approaches to pain management, as well as cook-along sessions! We also try and set small and realistic goals for each other and check in on how we are getting on with them.
There are several regular attendees and here is what some of them have said about the group –
One member said "my goal set last week was to get out of the house and I've been out 3 times already and I'm going out again today and tomorrow, I'm so proud of myself. I think I'm doing better"

Another said "it's good to hold each other accountable… I haven't got dressed this week so my goal is to get dressed when I can this week."
The group is very informal, and you don't need to commit to attending every week, but it's there when you need it.
"I've been to lots of groups, and they are mostly time-scaled, 12 weeks or a course and then all of a sudden it finishes and you're left there, you don't know what to do next. So this is different"

One member was in too much pain to join in with the cook-along so decided to watch. She said, "It's so entertaining watching you all try and bake. I feel like I can smell the bread through the screen!"
We also offer 2 face-to-face peer support groups in Middleton and Hunslet, which are funded by the Leeds Community Committee and run in partnership with Leeds City Council and Linking Leeds. Due to funding requirements, these groups are for the local communities in these areas (LS10, LS11 postcodes). However we hope to expand and run multiple groups around the city.
Here is some feedback from members who have attended –
After the in-person group … "It's been so good to get out of the house and to meet people who are the same as me. I thought I was the only one struggling"  

"I just wanted to thank you for today. We may have been low on numbers but I felt it was high in quality & content. The concept of today's "ice breaker" worked brilliantly, allowing the rest of the meeting to evolve. I feel we're all getting to know each other better & as a consequence sharing our experiences. I really enjoyed it!!!" 
How can I get Peer Support?
If you are currently a patient under the Leeds Community Pain Service, you can ask your Pain Clinician to refer you to us, if you're unsure who this is then contact the Pain Service admin team who will help on 0113 843 3356. Once we have received your referral form, either Katie or one of the volunteers will be in touch.
If you are not currently a patient in the service, however, are interested in receiving support please contact your local GP who can make a referral.
For more information about Leeds Community Pain Service, click here.
We want to hear from you! 
If you are a patient with the Leeds Community Pain Service, we want you to have your say about your experience with the service and value your honest feedback. This information will be used to help improve the service in the future so your contribution will make a difference to others. Your feedback may be captured through questionnaires/surveys and/or online/face-to-face monthly Service-User Forums and feedback can be made anonymous.
Here is a current questionnaire about the pain service we would love for you to complete to help us to improve the service.
It should only take a few minutes and can be completed online by clicking here Patient Experience Questionnaire