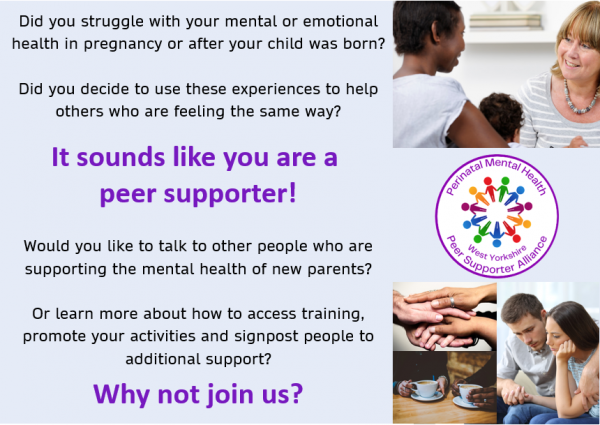 After our success in Leeds, Touchstone has been funded by the NHS to create a Perinatal Mental Health Peer Supporter Alliance throughout the rest of West Yorkshire.  We have recruited a small team to discover what mental health support West Yorkshire offers to parents, and to co-produce an alliance with the peer supporters and organisations we get to know along the way.  We also aim to improve the links between peer supporters and clinical staff, improve the promotion of peer support so that members of the public can find what they need, offer training in peer supporter skills and reduce digital exclusion within peer support.  By July 2022 the Perinatal Mental Health Peer Supporter Alliance should be operating independently as a self-sustained group.
What is Perinatal Mental Health? 
Perinatal mental Health is the mental health of any parent during pregnancy or the first year of a child's life.
Poor mental health is thought to affect up to 20% of parents, maybe more.  It can include anxiety, depression, worry and intrusive thoughts, feelings of worthlessness, insomnia, obsessions and compulsions, self-harm and in rare cases even psychosis.
The pandemic is thought to have increased levels of mental distress among parents due to increased isolation, lack of access to support services and family support networks and also the closure of childcare provisions.  Additionally, misinformation about vaccination during pregnancy and breastfeeding, and also uncertainty about the risks of COVID during pregnancy and in babies and young children, has added to the stress facing new parents.
Who is a Peer Supporter? 
A peer supporter is someone who uses their own experiences to support others going through the same thing: giving them a voice, a listening ear and a sense they are not alone.  This can give an increased sense of hope, strengthen commitment to finding help and working towards solutions, and reduce the distress associated with feeling like the only person who is struggling to cope.
Perinatal Mental Health Peer Supporters are parents who suffered from poor mental health either during pregnancy or after the birth of their child, who are now supporting other parents.
What is the West Yorkshire Perinatal Mental Health Peer Supporter Alliance? 
It is a supportive community for perinatal mental health peer support individuals and organisations.   It's a way of coming together to strengthen each other, problem solve and improve peer support.  The issues to be solved, the solutions and the direction the Alliance takes is all down to what its members see as important.  Each member brings their own issues but also their unique strengths and together the Alliance can develop efficient and creative solutions.
Benefits of membership can include:
Knowledge and resource sharing
Networking, developing partnerships and an opportunity to have peer support 'colleagues'
Events that promote peer supporter wellbeing
A safe space and informal peer support for Peer Supporters
Signposting to training, development and funding opportunities
Representation and a voice within strategic frameworks
Does membership cost anything?
No!  All we ask is that our members commit to helping each other, sharing information and participating wherever possible.
How can I become a member? 
Subscribe to our mailing list to receive a welcome email about membership details and get invitations to events and meetings.
https://perinatal-mental-health-peer-supporter-alliance-west-yorkshire.mailchimpsites.com/
Or you can send a message to a team member through our facebook page or Twitter @PPSAWestYorkshire (where you can also find links to the website)
Meet the team:
Project Co-ordinator, Clare – I am a parent myself who has benefitted from peer support and volunteered as a peer supporter in the past.  I have also trained others to become peer supporters.  I first came to Touchstone to facilitate peer support groups for parents and encourage non-judgemental open conversations about common issues that affect mental health such as stress, low self-esteem and family conflict.  I was then excited to move on to co-ordinate the set up of the Perinatal Mental Health Peer Supporter Alliance in Leeds and try to help ensure that peer supporters are protected and valued.  I am now co-ordinating this across West Yorkshire and hope my passion for strong safe peer support leads to an Alliance to be proud of.
Development Worker, Ukaoma – I have over 15 years of charity work experience with agencies like UNICEF, WHO, CDC and am the founder of a Non-governmental Organisation. Through my organisation I carried out many Pre/Post-natal mental health and Menstrual Health intervention programs in my home country of Nigeria.  In 2020, I moved to Leeds to further my studies and joined Touchstone in July 2021 after completing post-graduate studies.  I am a qualified and experienced Community Development Worker and also a parent.
Community Engagement Worker, Harriet – Having had experience of perinatal mental health challenges with the pregnancy and birth of my child, I have wanted to work in this field for a long time.  I have worked for 5 years as a community engagement worker in another organisation.  This, plus my own experiences being a mum, led me to apply to work for the Perinatal Mental Health Peer Supporter Alliance where I knew I could use my skills.  I am delighted to be a part of setting up such a valuable resource for all our peer supporters who work so tirelessly to help their peers across West Yorkshire.