Liaison and Diversion South Yorkshire Covid-19 update
The South Yorkshire Liaison & Diversion Peer Support Team are continuing to support existing service users at this extremely difficult time by offering support via telephone around wellbeing, provision of information, advice and guidance around COVID-19 as well as supporting people to access services that people still need to access. Peer Support Workers have liaised with services and arranged food parcels to be dropped off to those most in need. Whilst massive restrictions have come into effect in the custody suites across South Yorkshire, the team continue to support the Liaison & Diversion Service in South Yorkshire and are continuing to take on new referrals.
As a team we have also taken advantage of the change in working practices to reflect upon how we work as a team and are using the opportunity to develop things like the service leaflet, research and develop the Directions Groups that focus on vulnerabilities and review our own documents and reporting in an effort to improve service delivery for the future.
Just as importantly we are supporting each other through this difficult time by maintaining regular contact.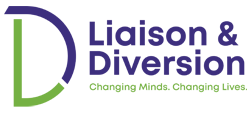 The South Yorkshire Liaison & Diversion Service works with those at the point of entry into the criminal justice system by engaging with them in police custody, the courts and the community prior to sentence. Following assessment and identification of vulnerabilities by specialist workers, Liaison & Diversion Practitioners working together with the Peer Support Team support, encourage, motivate and enable service users to access longer term support services that can help them to address their vulnerabilities.
The Peer Support Team are also able to provide emotional support during the 12 week intervention period and signpost or support service users to other positive social activities and resources that may support a reduction in offending and improve overall health outcomes.
The roles within the Peer Support Team include Peer Support Workers and Voluntary Support Assistants who are recruited on the basis of their skills, attributes and specifically their own 'lived experience' of the criminal justice system. Service Users accessing Liaison & Diversion Services are therefore able to access and benefit from working with those who have been where they have been and can act as positive role models, encourage aspiration and inspire them to change. The Peer Support Team roles are time limited and there is large emphasis on developing workers within it to enable them to gain experience and skills that will support them in accessing support work roles in this or other areas in the future.
Case Studies