To mark International Day of Older Persons, which was on Saturday 1st October, our Sikh Elders Service have shared a blog on the ways they have been supporting and celebrating older people in the Sikh Community in Leeds this year.
 Last Year's International Day of Older Persons
Each year Sikh Elders Service celebrates IDOP with their service users. Last year the theme was "Linking Lives" and service users joined sports activities such as badminton, tennis, football, skipping and hula hooping in a local sports hall. Following a year of online sessions, the team was delighted to connect with their service users again and facilitate a face-to-face session for the first time last year. Working from home and providing emotional wellbeing support has had its challenges since lockdown. The team remained connected with service users and encouraged them to try creative and physical challenges – but being back together face-to-face was a wonderful way to celebrate IDOP in 2021.
This Year's International Day of Older Persons
This year's IDOP theme is "the resilience and contributions of older women".
In response to this theme, the Sikh Elders Service & service users have produced a video of positive affirmations for women in Punjabi, which is now available on our new YouTube channel, which can be found here: Sikh Elders Leeds YouTube channel. A version of positive affirmations aimed towards men will be posted in November.
Our IDOP celebration event is also running on Monday 10th October at Manjit's Kitchen, Kirkgate Market Leeds at 10.45am – 12.15. We are really looking forward to celebrating the day with our team and service users.
Our Work to Support Sikh Elders Throughout the Year
As a service for Sikh Elders, supporting and celebrating older people in our community is not just confined to one day. We work with older people in our communities throughout the year. Here are just some examples of our recent work together in 2022.
Our New Exercise Video
This Autumn, we launched our new exercise video for supporting strength and balance for Fall Prevention week. These resources for keeping well and active can be shared with Punjabi and South Asian service communities and clients. The video has received positive feedback from hospitals and other community groups that are using it.
A child of a mother in hospital due to her mental health said: "my mum is really enjoying the exercise video you created for Sikh Elders! She follows the video everyday! It's a great resource!"
The coordinator of a Punjabi Senior Group in Birmingham also fed back to say: "The seniors really enjoyed the exercises and look forward to more videos to be part of their activities."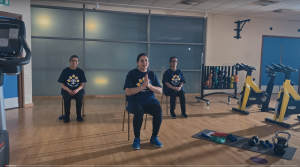 Our Participation in the Ageing Better Library
Our service users also participated in expanding the age-positive image library for The Centre for Ageing Better, which can be found here: Age Positive Image Library. In this archive, you can find images that reflect Punjabi, Sikh and South Asian families in their later life. The service users were photographed with carers or being cared for, as the particular goal of the archive was to shed a light on older unpaid carers. The images show our elders socialising and taking part in intergenerational activities authentically and realistically. These photos are available to download and use to promote wellbeing in later life.
The team know that there are many barriers to people experiencing a good later life and attitudes and perceptions towards ageing need to be challenged. While there are both positive and negative stereotypes of older people, representation of older people are predominantly negative. In particular, there is not much representation of age or ageing in the media for Sikh turbaned men or women in their Salwar Kameez. Our social media shares our service users experiencing "good ageing" and you can see some of these wonderful and positive images from the Ageing Better archive dotted around this blog. The service also promotes wellbeing as we age as a priority all of our work, including through our celebrations of International Day of Older Persons.