This World Alzheimers' Month, Touchstone's BME Dementia Service, in its 10th year, has some vital words on the importance of BME-specific support for those living with dementia and some advice on how to find support.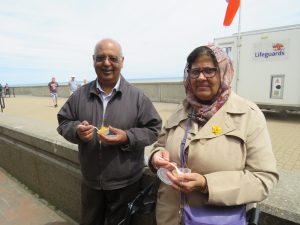 This year marks the 10th year of Touchstone's BME Dementia Service. As a part of marking this milestone, we featured on ITV Calendar in August to call for more funding for BME-specific support and care for those living with dementia. As the report explores, there is a huge gap in services which meet the needs of BME people with dementia and their families. With 25,000 Black and Minority Ethnic people living with dementia in England and Wales, a figure expected to double by 2026, we need these specialist support services now more than ever.
The need for tailored, specialist support
Everyone living with dementia deserves care and support that is tailored to their needs. These needs, of course, can vary vastly from person to person. There's not a one size fits all approach to supporting BME people with dementia. However, there are some common needs that non-specialist services are often not equipped to support with.
These shared needs include language barriers. Some of our clients speak largely in their first language as their dementia progresses. For this reason, it is crucial that services have staff who can speak multiple relevant languages, as in our weekly Hamari Yaadain (Our Memories) café, which runs in five South Asian languages. Being able to communicate properly with the people you work with is critical to being able to support them in ways that work for them.
It's also vital to have staff that echo the experiences and backgrounds of clients and have informed insight into the communities they are from. Diverse representation and culturally competent staff are important in all services. In dementia services in particular, it is key that staff understand the lack of awareness of dementia and the stigma that might be attached to a diagnosis in some communities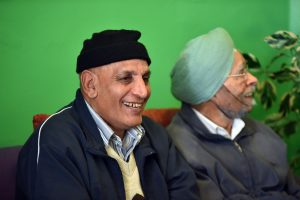 For example, there isn't a word for dementia in five South Asian languages. As Kalvinder Degun, whose Dad Mohinder Singh Padam, is supported by the service, says: "At first, when we heard about it, we didn't even think dementia happened to Indian people so we were kind of isolated… There's obviously stigma attached to it." Experiences like this emphasise the importance of staff and services who understand these nuances and can help raise awareness of the condition in appropriate ways, reaching out to people before they reach a crisis point. As Kalvinder states, "What we don't want is for other people… to get to a crisis point before they ask for help… [Without a service like this]… my dad would kind of deteriorate faster."
Touchstone's BME Dementia Service provides culturally appropriate Dementia awareness talks within community settings in English, Punjabi, Hindi or Urdu. Tailored awareness raising sessions like these are central to the work that we do but are not necessarily common outside of BME-specialist services.
As the only BME dementia service in Leeds and one of few in the UK, there is clearly a huge need for increased funding of such services, which are so important to people living with dementia and their loved ones.
Getting support:
Despite this gap in services, there are still places that you can go to for support and advice.
Support services:
To get support and advice from our service, the BME Dementia Service in Leeds, please visit our webpage here.
Leeds Black Elders Association  – This Leeds-based organisation provides specialist provision to Black Elders, including health and wellbeing support.
Meri Yaadain – This Bradford based organisation that supports people from Black and Minority Ethnic backgrounds living with dementia, raises awareness of dementia in BME communities and challenges inequalities in services.
Together Dementia Support – Manchester – This is a dementia support organisation in Manchester, providing culturally appropriate support for African Caribbean people, including a gospel choir group, to those in the area living with dementia.
Centre of Wellbeing, Training and Culture – Rochdale – This Rochdale-based organisation helps to improve awareness and understanding of Dementia, reduce stigma and build confidence of the Rochdale Borough's BAME residents, particularly those of South Asian origin, living with Dementia, as well as their carers and families.
Sub Co Trust – London – This London-based organisation provide activities and support for Asian elders with various stages of dementia, including early-stage memory loss.
Dementia Diversity – Midlands  – The West Midlands-based care organisation, AmbaCare Solutions, created a website for supporting people with dementia from diverse backgrounds. The website includes information on how to get support, including from Dementia Buddies, and a range of resources and information.
Chinese Community Wellbeing Society – Bristol– The Chinese Community Wellbeing Society, based in Bristol, offers a Care Support service where care support workers from the Chinese community visit the person you are caring for in your home while you have a break. They also have films aimed at carers in Mandarin and Cantonese on their website.
Culture Dementia UK – London– This Neasden, London, based organisation was set up to support people with dementia and carers from the African Caribbean community. They offer visits, a befriending service, and support carers, as well as providing talks and advocacy.
African Caribbean Care Group – Manchester – This Manchester-based organisation offer a Dementia Care and Advisory Service to people living with dementia in African and Caribbean communities.
Irish in Britain – National   – The Irish in Britain organisation supports the needs of Irish people with all forms of memory loss, through their Cuimhne: Irish Memory Loss Alliance project.
Bristol Black Carers – This Bristol-based organisations supports carers in BME communities that might not identify with the term carer, including people caring for loved ones with dementia.
Resources for BME people living with dementia and their loved ones:
Nubian Life Reminiscence Platform – Based in London, this organisation has built a culturally specific therapeutic arts online platform, called Reminiscence in Action,  for older people particularly those with dementia. They have partnered with theatres to create  songs, poems and stories from the Caribbean, Africa and India to reconnect memories and emotions. All of these resources can be found on their website.
Key Facts in Hindi – Key Facts guide about Dementia translated into Hindi
Bristol Dementia Wellbeing – Films in Different Languages – In Bristol, an organisation has put together 6 films in English, Cantonese, Punjabi, Somali, Urdu and Polish languages for people with dementia to raise awareness about the condition.
Dementia UK Black History Month blog – A blog from an Admiral Nurse at Dementia UK, looking at the experiences of Black people living with dementia.
Alzheimer's Society have some good blogs and resources around dementia, Alzheimers and BME communities:
Dementia Guide Translated into Different Languages
Former Carers' Experience Leads to Raising Awareness of Dementia in Asian Communities– This blog explores a former carer's experience of supporting a parent with dementia and his subsequent drive to improve care and for Asian and BME people living with dementia. This has included him setting up the BME Health Forum in Rochdale, which has lots of different resources and information about health and wellbeing, including dementia, for BME communities.
Blog on Research into Black Communities' Experiences of Dementia in the UK
A Blog Written by a Black Woman with Early Onset Dementia
Blog Looking at Issues and Challenges Faced by Black Communities in Relation to Dementia
Blog on Dementia Awareness in Black Asian and Ethnic Minority Communities