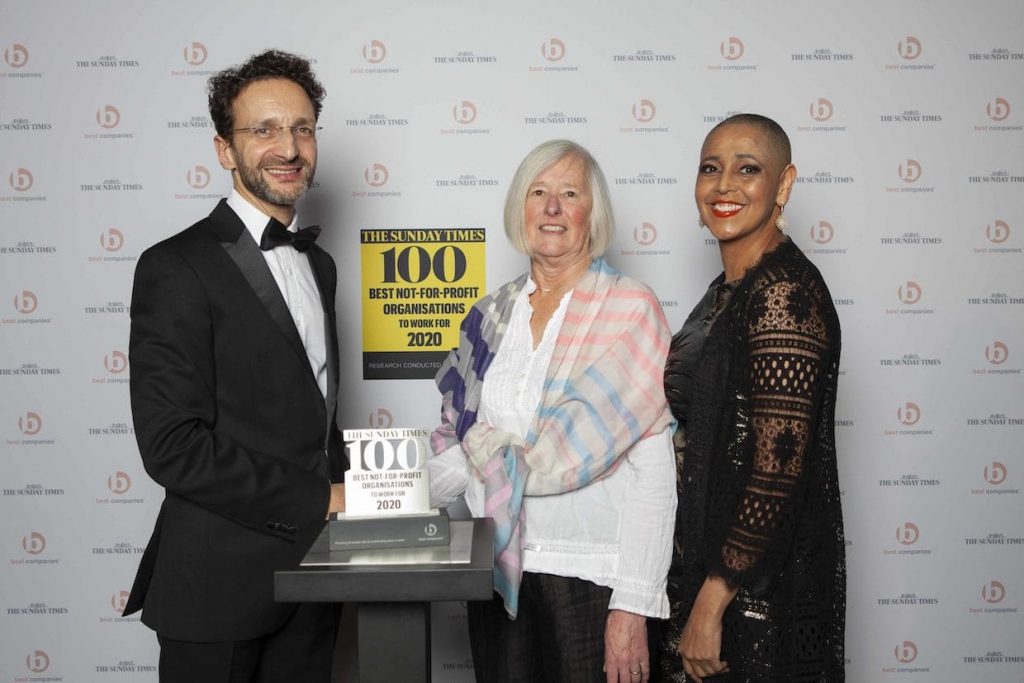 The charity also received the Discovering Potential award for the fourth year running in recognition of their work to employ people with lived experience.
As well as this, Touchstone won the Giving Something Back award for its community engagement and efforts to tackle climate change within the organisation and across the communities it serves. The charity was awarded this accolade for the second consecutive year.
This is the eighth year running that Touchstone has been judged a top 100 Best Company – and its fourth in the top 10. The Sunday Times Best Company Awards measure how engaged people are at work and how they feel about their employer.  Touchstone gained a three star accreditation from Best Companies which is only given to those employers with exceptionally high scores in the survey's Best Companies Index and represents organisations that "truly excel".
Kathryn Hart, HR Director at Touchstone who leads on staff engagement commented "at Touchstone we work hard to celebrate the fabulous colleagues we are lucky enough to work alongside. We focus on the here and now and the future potential of our staff. In the last year, once again, we have recruited many new people to our welcoming organisation, many with lived experience of mental health, the criminal justice system and substance misuse. Inclusion at Touchstone is not just about the 9 protected characteristics it is about the whole person, including their diverse experiences. I am so incredibly proud of Touchstone but also of the staff who prove to society that anyone can – given the chance."
Touchstone provides mental health and wellbeing services to over 6,000 people annually throughout West and South Yorkshire – mainly to Black and Minority Ethnic (BME) communities and often in partnership with other organisations. Touchstone has doubled its turnover in the last year to over £8m and now employs over 230 staff.
Touchstone regularly wins national accolades for its best practice in diversity and inclusion. In addition to the Sunday Times Best Companies for employee engagement, the charity is ranked 44th on the Stonewall Top 100 Employers list. Touchstone is also Investors in People Platinum accredited.