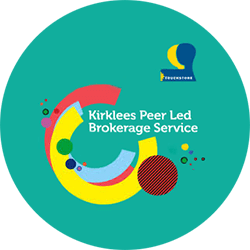 The Kirklees Peer-Led Brokerage Service helps people with a personal budget in Kirklees to find and arrange the kind of support services they want.
You can find out a lot more about how to get care from Kirklees Council here.
All our peer brokers are people with direct experience of living with mental health difficulties (including dementia), and of using mental health services.
They are trained and supported to help you work out what kind of support you want, to live the kind of life you want.
Our service is based in Dewsbury and works all across Kirklees.
Anyone who lives in Kirklees, who has experience of mental health difficulties who:
a) has agreed a personal budget with Kirklees Council; or who
b) wants help to choose how to spend their own money to find the right kind of support.
Why would you want a peer broker to help you design your support?
The person helping you to design your package of support is someone with lived experience of mental health. They are not a social worker or a nurse. They are someone with direct experience;
They will make sure you are in control: that you set the agenda, you decide what your support looks like, and where, when and how it is provided.
What kind of help can a peer broker offer?
Informing and Connecting – from the information you give us you will be matched with a Peer Broker who will be able to share good information about what services are available locally and what you are entitled to;
Guidance and Planning – your Peer Broker will support you to think through your needs and desired outcomes. Together you will develop a support plan. If you wish, your family, carer or a person important to you can be involved in this process;
Negotiating and Advocating – you will be supported to negotiate contracts and agreements with others;
Organising and Setting-up – you will be supported to organise the services you want, to recruit supporters and where necessary, agree formal arrangements;
Managing and Improving – we will support you to manage your funding arrangements; and
Reviewing and Developing – together we will review your support plan, your needs and services and help you to make changes where necessary.
How to get in touch
You can refer yourself to us by completing our referral form and sending it to us, along with a copy of your current SDS support plan.
Getting Involved
Touchstone believes that the best mental health services are those that are led and shaped by people with lived experience of mental health problems.
If you are someone with lived experience of mental health problems or mental distress, we can offer a wide range of volunteering opportunities.
In exchange for your time and enthusiasm, we can offer full training and support to help you become a volunteer peer advocate and/or a peer broker.
If you are interested in volunteering with us, you can contact any of the Kirklees team for more information.
The Peer-Led Brokerage Service is funded by Kirklees Council.