(Written by Matthew Hall – LSLCS Crisis Support Worker at WBC)
New Years' Resolutions… sometimes the New Year can bring a sense of pressure. The days are shorter and dark, the weather can be cold and wet – and the world can feel a more lonely and scary place. If you are struggling with your mental health in these conditions, then this could increase your feeling of desperation and sense of crisis even more.
At times it is also hard to ask for help, and reaching out for this can often cause a feeling of anxiety and dread. The pressure of finances post-Christmas or applying for Universal Credit and the wait for benefit payments to start – can also increase feelings of instability which can affect your mental health. If you feel at all like this and feel like it is hard to reach out, we very gently as you to do so. As a person who struggled very deeply with my own mental health in the past, I know how hard it was to seek help, almost using this as a sense of self punishment for already feeling the way I was – that I didn't deserve the support.
In this sense, could your New Years' Resolution be to reach out if you need the support – this can be the hardest part, though we are here if you are struggling…
DETAILS OF WHERE/WHEN THE WBC IS OPEN THROUGHOUT THE WEEK ARE BELOW:
SATURDAY, SUNDAY AND MONDAY 6PM TO 12AM @ LINCOLN GREEN COMMUNITY CENTRE, CROMWELL MOUNT, LS9 7ST.
TUESDAY AND WEDNESDAY 6PM TO 12AM @ TOUCHSTONE HOUSE, 2-4 MIDDLETON CRESCENT, BEESTON, LS11 6JU.
THURSDAY AND FRIDAY 6PM TO 12AM @ THE NEW WORTLEY CENTRE, 40 TONG RD, LS12 1LZ
OUR SELF REFERRAL LIFE IS: 07760 173476 (both lines open 6 to 12pm ALL WEEK)
OUR PROFESSIONAL REFERRAL LINE IS: 07760 173505
We offer a genuinely safe place – with caring staff/support workers, offering the following services: A non-judgemental social place to relax in, freshly cooked food with hot/cold drinks on tap (no charge), 1 to 1 therapeutic support sessions (up to an hour – from a person centred standpoint), practical support – with a focus on social crisis, information and signposting to others helpful services in Leeds, as well as having board games, art books, music and even a pool table that can be used by anyone. Our workers – Kimberley, Ishrat, Wendy, Adrianna, Matt, Mark, Lizzy, Sara, Chantelle, Rob, Lauren, Kim, Joe and Susan are here are to welcome you with a friendly smile…
The Well-Bean – Hope in a Crisis Café is a service run in partnership between Touchstone and Leeds Survivor Led Crisis Service.
*PLEASE NOTE – ON YOUR FIRST VISIT TO THE WELL-BEAN CAFÉ – WE WILL PROVIDE A FREE TAXI (TO AND FROM) THE SERVICE, TO TAKE AWAY THE WORRY OF GETTING TO US FOR THE FIRST TIME*
Leeds Survivor Led Crisis Service also provide a number of Crisis Services (face to face) and via phone or text. Their website is lslcs.org.uk for information on the rest of their service, including day time support as well as a number of different support groups.
DIAL HOUSE is open 5 days a week (Fri to Mon, and Wed). Call 01132 609328 from 6pm to refer.
THE CONNECT HELPLINE is open every night of the year, 6pm to 2 am. They offer phone, text and online support is you feel like you don't want to leave/cant leave where you are currently. Call them on 0808 800 1212 or go to www.lslcs.org.uk to refer for online support.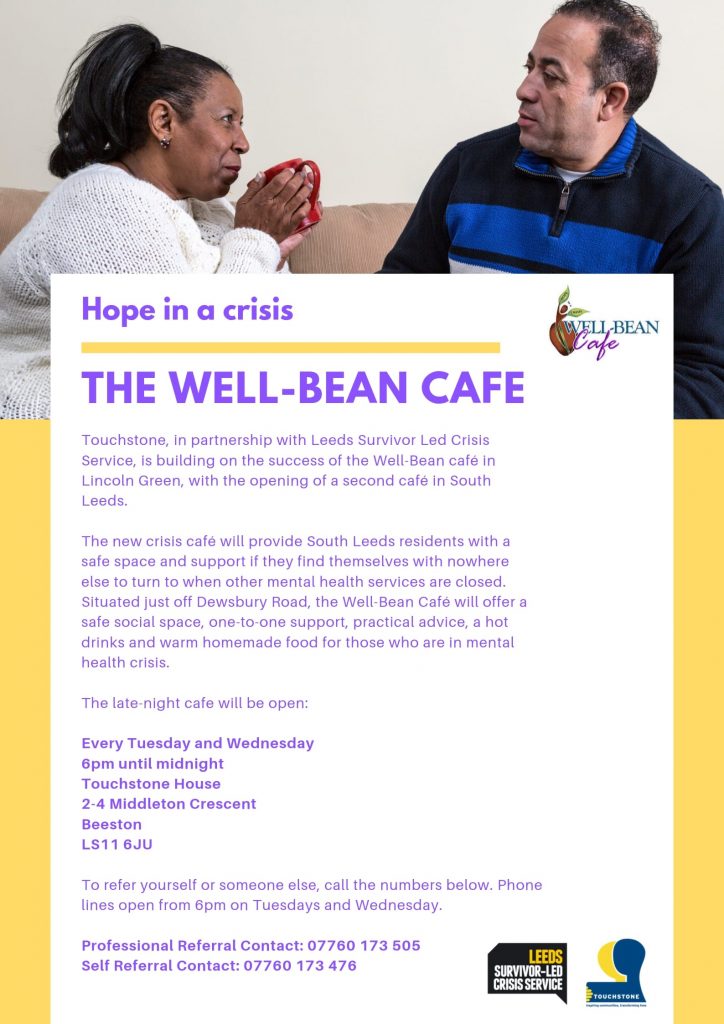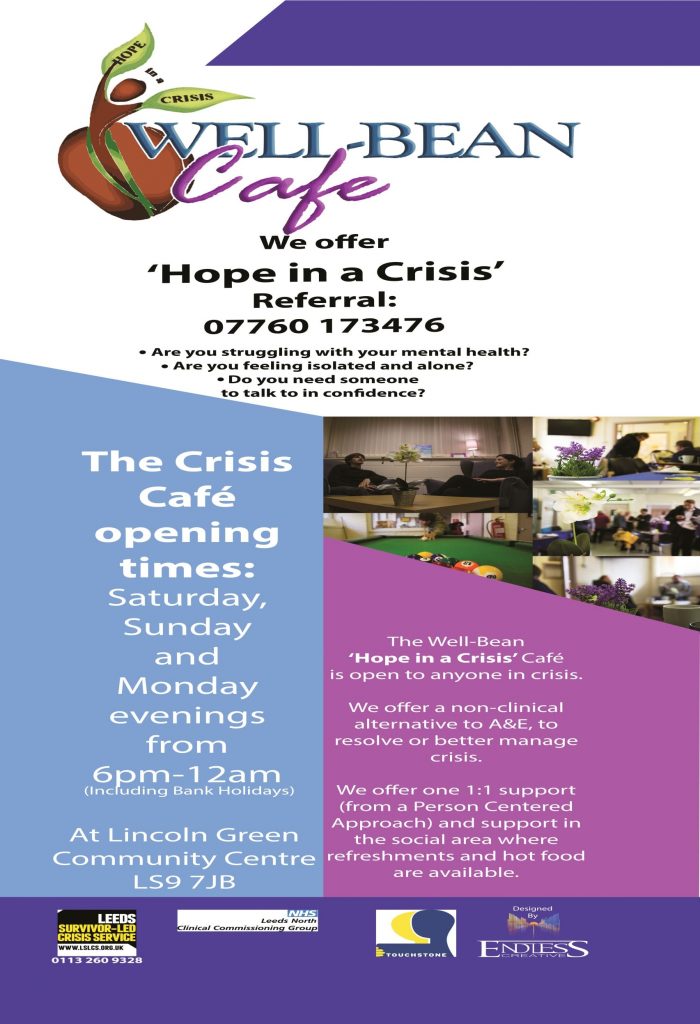 Photo by Vonecia Carswell on Unsplash